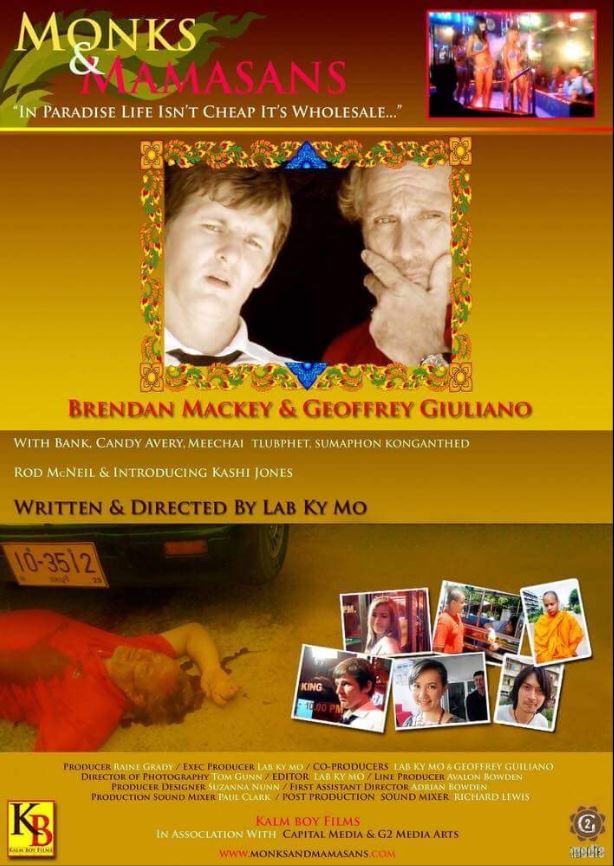 From Lab Ky Mo, the director of 'Nine Dead Gay Guys' comes the ironic tale of two men lost in exotic southeast Asia in a parallel world of cunning bar girls, a motherly mamasan, a lonely boy and a mysterious monk. What happens next no one saw coming…
''This film has got it all go-go girls, massage parlors, and sleazy sex tourists; cue 'Geoffrey' scripted as 'Freddie The Farang'. Top marks to the casting director. Giuliano is a show business story waiting to happen… but it could be messy!"
Andrew Drummond / London Times
The naughty nightlife of the golden triangle is the rawest in the world. Each year men of all ages make the pilgrimage to hook up with a beautiful young bronze girl. As well as take a leap at landing true love among the hordes of irresistible bar girls on offer. For many middle aged men it is pretty much the end of the line in their quest to find the attention, love, and, yes – sex, they couldn't possibly expect back home. But here in magical allure of exotic Siam all things seem possible.
'Monks & Mamasans' is the story of a young Englishman, Dee, who makes the trek after his wife leaves him with their only child. Broken up by this loss he loses himself in a seamy netherworld of sin, sex and sun. Along the way he meets congenial older US expat, Freddie, who acts as his guide in this sensual playground.
Here is a sometimes disturbing, offer funny. Always entertaining inside look at the extraordinary lengths some go to try and reconnect with their own smoky image of love set among the sizzling nightscape of perhaps the most decadent city since Babylon.